SEND A CAROL-O-GRAM TO SOMEONE SPECIAL​
Back by Popular Demand!
Pacific Chorale wants to extend an opportunity to spread a little (pre) holiday cheer!
Why not get your holiday shopping done early this year? Through the end of October, Pacific Chorale will be raising money for our organization by creating personalized video recordings of a Christmas carol or Hanukkah song, sung by a quartet from Pacific Chorale, that we can send to your loved ones this coming December. Reserve your Carol-o-Gram Here
Donation Levels
For a donation of $100, one of our fabulous choristers will record your personalized greeting.
You may have a Carol-o-Gram with a personalized message sent to your employees, employers, friends, family, or any other special someone in your life. Our Carol-o-Grams will be a truly unique and memorable gift that is sure to raise spirits throughout the holiday season.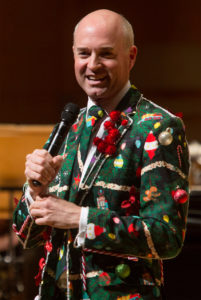 For a donation of $200, our beloved Artistic Director Robert Istad will record your personalized greeting to the recipient!
​
Reservations are being taken now through October 30th. 

Carol Selections
We will send your Carol-o-Gram to the person of your choice, which will feature a short video recording of a quartet of Pacific Chorale singers sharing your personalized greeting and performing one of the following songs:
1. Silent Night
2. Angels We Have Heard on High
3. Have Yourself a Merry Little Christmas
4. Light One Candle (Sent just in time for Hanukkah!)
5. Auld Lang Syne
6. We Wish You a Merry Christmas *Newly Added!
Delivery
In December, we will email your Carol-o-Gram to the person of your choice!
Disclaimers: Due to their personalized nature and digital rights concerns, these recordings cannot be shared on social media channels. All videos are final.
Buy Five, Get One Free
If you choose to give a Carol-o-Gram to five loved ones, Pacific Chorale will record a sixth Carol-o-Gram for free!
To reserve this very special holiday treat for someone you love, click on the button below… We will close reservations on October 30th, so send in your reservation today!

If you have more than 12 recipients, or would like to make a donation but are unsure who you would like to send your carols to, please contact Briana at (714) 662-2345 x224 or use this form.
Questions
Please do not hesitate to contact us with any questions!
Q: Is my donation tax deductible? Yes! The amount of your contribution that is tax deductible for income tax purposes is limited to the amount contributed above the estimated current fair market value of the Carol-o-Grams received.  The fair market value of each Carol-o-Gram is $50. Please consult your tax professional for advice regarding the deductibility of any contribution.

Give the Gift of Music and Support Pacific Chorale