Programs & Services​​​​​​​
Pacific Chorale is the primary artistic, social, and civic outlet for 150 dedicated volunteer singers. Many of our volunteers are music teachers or work in arts industries, but the vast majority are avocational musicians with diverse backgrounds, united in their love of choral music. Pacific Chorale offers them an opportunity to sing, buoyed by a small core of professional vocalists, with Pacific Symphony, the L.A. Philharmonic, and many other orchestras, in venues ranging from community-based churches to Segerstrom Concert Hall and the Hollywood Bowl. Incomparable artistic opportunities and deep community connection are among the reasons that our members dedicate an average of 122 hours to rehearsals and performances heard by more than 18,000 listeners annually. In order to reduce barriers to access, volunteer singers are never charged dues to participate.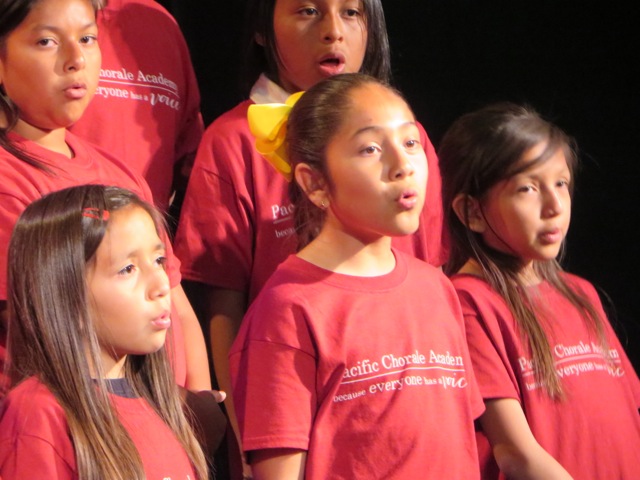 Pacific Chorale also serves the community with award-winning programs for kids in grades 1-12 and adults. These high-quality enrichment programs are offered at low or no cost in order to ensure equitable access to all interested singers. "Pacific Chorale Academy" is an after-school program for elementary students which uses the fun of choir to reinforce important skills like persistence, teamwork, and self-discipline. "Choral Camp," in partnership with Cal State Fullerton and taught by some of CSUF's top faculty, provides local, affordable summer enrichment for high school students. "Intro to the Arts" provides hundreds of free tickets through schools and social service partners, so that the ability to purchase a ticket is never a barrier to concert attendance. For adult singers, our annual Choral Festival opens the stage doors to over 300 non-auditioned community vocalists each year, who join with Pacific Chorale for a weekend of rehearsals and a performance in what many describe as a "bucket list" event. 
During the COVID-19 pandemic, we have leapt into the virtual realm. Choir members have collaborated on numerous "virtual choir" videos by rehearsing and recording their individual parts from home. In December, we held our first-ever online gala and concert, combining virtual choirs with pre-recorded small ensembles in an event viewed by 2,745 households. Pacific Chorale Academy is offering 30 weeks of online instruction to students in Orange County and beyond, focusing on creativity and wellness. We remain flexible and nimble, creating multiple models for live, virtual, and hybrid programs so that we can continue to serve the community in a constantly changing landscape.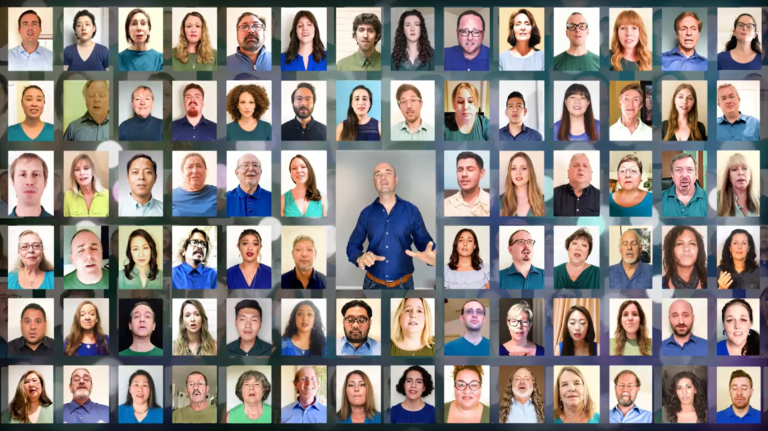 Community​​​​​​​
Choir members, listeners, and education program participants hail from more than 50 cities in Orange, L.A., and Riverside counties and beyond. Unified by a common love of singing, our choir and our audiences are among the most diverse of any classical music organization in Southern California in terms of ethnicity, geography, and age. However, we continue to grow and evolve in our understanding of how to best inspire and engage the entire community.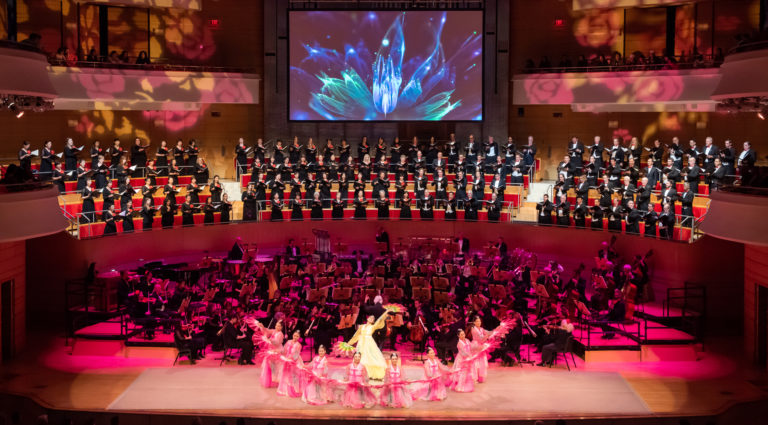 Our community partnerships include an annual concert with the American Feel Young Chorus and our longtime partners at Pacific Symphony, celebrating Lunar New Year. Both ensembles learn from performing together, and the partnership has been the catalyst for genuine friendships and greater cultural understanding. 

Our programming philosophy continues to evolve to be more inclusive and representative. We are committed to centering works by women, people of color, and other historically marginalized groups on all of our concerts. We are dedicated and genuine in our desire to serve and unify the community through music.
Commitment to Equity
Pacific Chorale is committed to racial equity and cultural competence in our work environment, board governance, and artistic and educational programming.

We acknowledge that a historic societal and philanthropic bias for Western European music has undervalued the contributions of artists of color, and we approach issues of racial equity in a spirit of listening, learning, and improving.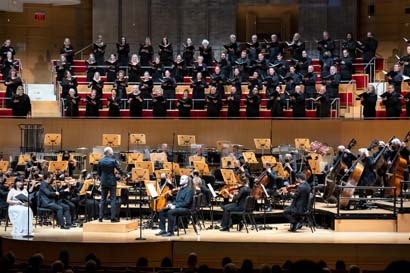 We believe that bringing together staff, board members, artists, and community partners with differing backgrounds will enhance our ability to serve our mission to inspire and educate the community.

We value choral music's historic role in social justice movements, and believe that it plays a unique role in witnessing, demonstrating, and inspiring resolutions to racial injustice.

We understand that enacting policy in a just and equitable manner involves confronting critical issues of implicit bias and discrimination, requiring concerted and purposeful action.

THEREFORE, we commit to administering policies, programs, and activities in a way that identifies and avoids discrimination and barriers to access for communities of color, immigrants and refugees, and communities that have principal languages other than English.

We demonstrate this commitment through the following actions:

• Assuring that artistic and education programs are developed using a racial equity lens, focusing on broad and thoughtful inclusion of artists, concepts, and works representing historically marginalized communities.

• Prioritizing cultural and socio-economic diversity in the selection of performance venues and education partners.

• Resourcing projects and partnerships which center racial equity and social justice issues.

• Committing appropriate time, education, resources, and respect to honoring diverse musical traditions.

• Regularly revisiting internal policies and external communications, resulting in real and substantive changes.

• Recruiting members from diverse communities for the board of directors, staff, and choir.

• Providing regular and ongoing learning opportunities to advance the organization on its journey to deeper understanding of racial equity issues.

Questions? Contact Thelma Valenzuela, Director of Development for more information.

Thelma@pacificchorale.org | (714) 662-2345