Pacific Chorale's Summer 2021 virtual production, The Wayfaring Project takes us on a journey that acknowledges and honors the profound dislocation and uncertainty most of us have faced during the past year, while looking ahead to the future with hope and assurance that we are at last "going home."
Reunite with Pacific Chorale for the first time in person since 2019 with an evening under the stars at the world premiere film screening of our most ambitious digital program to date!
Saturday, August 21, 2021 at 8:00 p.m. at the Julianne and George Argyros Plaza, Segerstrom Center for the Arts, Costa Mesa. Tickets range from $20-$45.
Buy Tickets to the Film Screening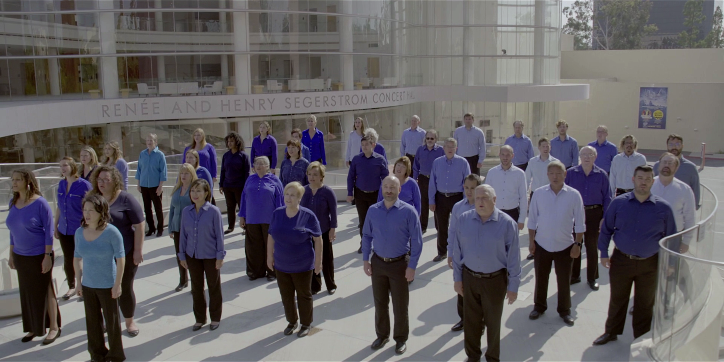 Created in collaboration with Arts Laureate and award-winning cinematographer Jeff Dolen Productions, The Wayfaring Project features Pacific Chorale, members of Pacific Symphony, and soloists performing the music of J.S. Bach, Samuel Barber, Thomas A. Dorsey, Tarik O'Regan, Dolly Parton, and Moira Smiley. The complete concert will receive its world premiere screening on the Julianne and George Argyros Plaza at Segerstrom Center for the Arts in August 2021, and will thereafter be available online to audiences worldwide.
Artists
Pacific Chorale
Robert Istad, Artistic Director & Conductor
Members of Pacific Symphony
Film Production by Arts Laureate and Jeff Dolen Productions
J.S. Bach
Samuel Barber
Thomas A. Dorsey
Randall Thompson
Tarik O'Regan
Dolly Parton
Moira Smiley
Program
Select a title to learn more
---
"The path we have made in The Wayfaring Project itself mirrors Rob's beautiful programming and our journey through the pandemic. There is one all-virtual work created entirely remotely (and from seven states!), three "hybrid" at-home/in-person music videos staged at the Segerstrom Center and Fullerton Arboretum, and four pieces performed in our magnificent acoustic home onstage. The film involves 125 artists and many dozens of production engineers, editors, and crew. Together, these interwoven elements create a one-hour experiment with a new form of production and presentation for Orange County's professional choir. The Wayfaring Project is a powerful statement of our commitment to mission, and, like the light of a clear blue morning, offers a renewal of hope in our community."
— Alex Nelson, Director of Artistic Production
---
Special Thanks
Pacific Chorale gratefully acknowledges its generous sponsors:
Platinum Season Sponsors, Phillip N. and Mary A. Lyons
Silver Season Sponsors, Charles and Ling Zhang
Pacific Chorale is grateful to the following funders for their ongoing and elevated support during the COVID-19 pandemic:
Ann and Gordon Getty Foundation
California Arts Council
California Small Business Administration
Capital Group Companies
Colburn Foundation
National Endowment for the Arts
Orange County Second District
OC Arts & Culture Resilience Fund
Pacific Life Foundation
---
Pacific Chorale is committed to providing the highest quality performances and recordings of choral masterworks of the past, creating masterworks of the future, and educating audiences of all ages.
If you enjoyed this program, please consider a donation to Pacific Chorale so that we can continue to share our beloved artform with the community.