Ninety years ago, American composer Florence Price made history, breaking through barriers of race and gender. But after her death, her work was half forgotten, much of it nearly lost to the ages, until sheer chance brought it back to light.
A native of Little Rock, Arkansas, Price (née Florence Beatrice Smith) was born in 1887 to a mixed-race family, the daughter of a dentist and a music teacher. Her family recognized and encouraged Florence's precocious musical talent. After graduating from high school, she enrolled in the New England Conservatory of Music in Boston. In addition to being one of the most prestigious musical institutes in the United States, the Conservatory was one of the few at the time that accepted Black students. Nevertheless, on her mother's advice, Florence claimed to be of Mexican rather than Black descent, hoping to avoid racial discrimination.
In 1927, Price and her husband and two daughters left Little Rock for good. Racial tensions in the city had risen to dangerous levels, and a lynching had taken place only a few blocks from their home. Seeking a safer place to raise a family, they resettled in Chicago, where Florence resumed her musical studies and began to publish her compositions. It was there that her music began to attract wider attention, while her widening social and professional circle included poet Langston Hughes, pianist and composer Margaret Bonds, and legendary contralto Marian Anderson.
Price would make history when the Chicago Symphony under conductor Frederick Stock performed her award-winning First Symphony in E minor at the 1933 Century of Progress World's Fair—the first African American woman to have her music played by a major American orchestra. The Chicago Daily News called the symphony "a work that speaks its own message with restraint and yet with passion… worthy of a place in the regular symphonic repertoire."
Despite this success and the fame it brought her, Price struggled throughout her life for opportunities to have her music heard. Thanks to the advocacy of artists like Anderson and Bonds, and the dogged research of a few scholars, some of her art songs and chamber music maintained a tenuous place in the repertoire after her death, but the rest of her music, particularly the larger pieces for orchestra, faded from memory. Out of more than 300 known works, most of her compositions remained unpublished and inaccessible to the public, and many were believed to have vanished for good.
Then, in 2009…
Vicki and Darrell Gatwood were preparing to renovate a derelict house on the outskirts of St. Anne, Illinois, a small town some 70 miles to the south of Chicago. The house was one of several they had purchased that had once been associated with a Black country club, now long defunct. It was in a sad state—vandalized, with a hole in the roof from a fallen tree branch. But hidden inside lay an unexpected treasure: file cabinets and boxes full of music manuscripts and papers signed "Florence Price."
The abandoned house where Florence Price papers were found (c) Tim Nutt/UAMS Library Historical Research
Some of the Florence Price papers were strewn all over the floor after the house was vandalized (c) Tim Nutt/UAMS Library Historical Research
The dilapidated house had a hole in the roof. Many of the Florence Price papers sustained water damage (c) Tim Nutt/UAMS Library Historical Research
When some research revealed that Price had been a well-known composer in the Chicago area, the Gatwoods contacted the University of Arkansas, which maintains the largest archive of her music. The University librarians were amazed to find that the Gatwoods' discovery included dozens of pieces that were previously unknown or had long been thought lost. They had been lying apparently untouched in that house—Price's summer home, as it transpired—ever since her death in 1953.
Among the pieces recovered from the house in St. Anne were three related large-scale settings of American poet Vachel Lindsay's 1914 poem "Abraham Lincoln Walks at Midnight": one for chorus with piano accompaniment; one for chorus and orchestra; and an excerpted portion for orchestra only.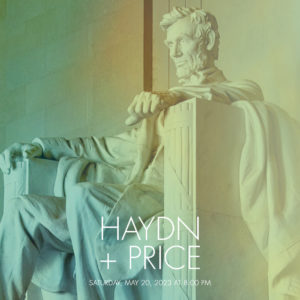 Pacific Chorale is proud to feature the West Coast premiere of the choral-orchestral version of Abraham Lincoln Walks at Midnight on our closing concert of the season May 20th. We are honored and excited to help reintroduce the music of Florence Price to audiences here in Orange County and on our European tour this summer!
Posted Under: News