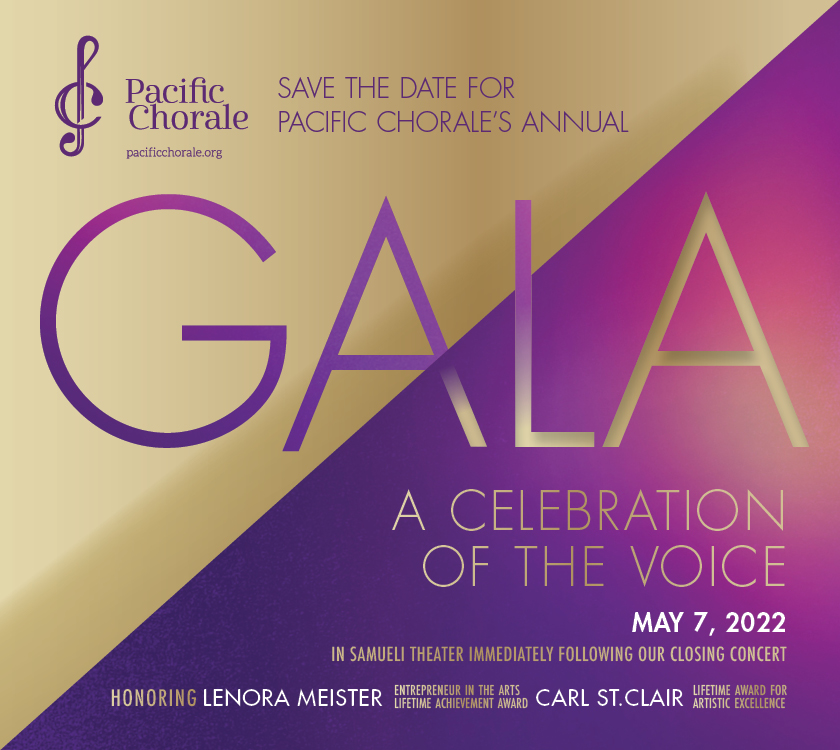 Join Pacific Chorale on May 7, 2022 for our annual gala, A Celebration of the Voice, at Samueli Theater immediately following our closing concert.
Honoring
Presenting Lifetime Achievement awards for two very dear friends: esteemed business owner, philanthropist and singer Lenora Meister and Pacific Symphony's Maestro Carl St.Clair.
---
Featuring
Featuring a wonderful dining experience, live entertainment, raffle and live auction, and a special surprise, all proceeds will fund Pacific Chorale's performances and music education and outreach programs throughout Orange County.
Stay Up To Date
Add your name to the GALA guest list to receive upcoming save-the-date announcements and special invitation.
Live Auction Preview
Enjoy a preview of the Live Auction Items – some favorites and some new!





Raffle Preview
From jewelry and handbags to your favorite wine and spirits baskets, we will be having a great assortment of items to win!





Sponsorships & Tickets
Tickets for the gala are sold out.
Gala Committee
Susan Lindley, Gala Chair
Carla Neeld
Pat Newton
Marcia O'Hern
Carl Porter
Beth Varney
Julie Virjee
Amanda Whiting
Gala Sponsors
Presenting Corporate Sponsor
• Salt-Away Products
Diamond Table Sponsor $25,000
• Phillip N. and Mary A. Lyons
Platinum Table Sponsor $20,000
• Lenora Meister
• Charles and Ling Zhang
Gold Table Sponsor $15,000
• Lenora Meister
Silver Table Sponsor $10,000
• Dennis and Marcia O'Hern
• Tom and Bonnie Pridonoff
Bronze Table Sponsor $5,000
• Jan Landstrom
• Kenneth and Carla Neeld
Bronze Individual Sponsor $1,000
• Brian D. Bates, CPA
• Warren Coy
• Susan (Loonan) Doan & Heidi Dill
• Drs. Andrei Novac and Bonita Jaros
• Kris Oca
• Quinn & Dworakowski, LLP
• Ryan Ratcliff
• Diane Stovall
• Beth Varney