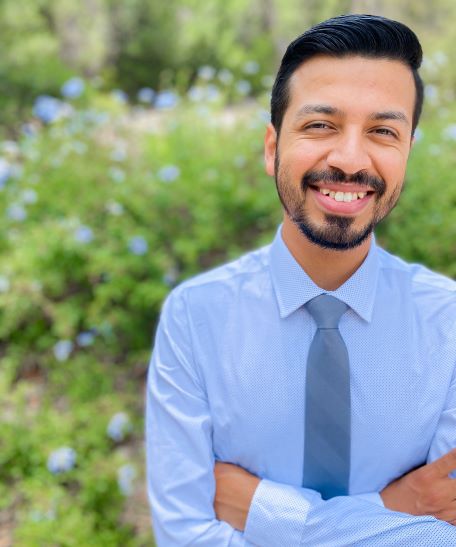 Pacific Chorale welcomes our new Interim Assistant Conductor, Kibsaim Escarcega. Kibsaim is a recent graduate from Cal State Fullerton's Master of Music program in Choral Conducting. He was awarded the inaugural John Alexander Graduate Choral Conducting Scholarship following his superb audition for the program, and continued to perform with considerable excellence (musical and collegial) throughout his graduate career. Kibsaim has conducted many levels of choral and instrumental ensembles, has received significant training in opera conducting, and is himself a wonderful tenor.
Kibsaim is a marvelous musician, and I am consistently impressed with his abilities. Most importantly, he is a fantastic teacher, and an all-around amazing person. I know that he will […] immediately become a cherished member of our Pacific Chorale family. I am really excited to collaborate with him, and know our singers will love working with him on the podium.

— Robert Istad, Artistic Director
Kibsaim currently serves at the Interim Choral Director at Tustin Presbyterian Church, in addition to his new responsibilities at Pacific Chorale. Read his full bio here:
Kibsaim Escarcega is excited to embark on a new chapter as Interim Assistant Conductor for the Pacific Chorale. Kibsaim is the Chancel Choir Director at Tustin Presbyterian Church. Born and raised in Southern California, he continues to be an active member of the choral community as both a teacher, singer, and conductor.
Kibsaim received his Bachelor of Music degree in Vocal Performance from the University of California, Irvine, and his Master of Music degree in Choral Conducting from California State University, Fullerton. He studied voice with Dr. Darryl Taylor and conducting with Dr. Seth Houston, Dr. Stephen Tucker, Dr. Robert Istad, and Kimo Furumoto.
While at UC Irvine, Kibsaim served as conductor for the student-run BATS choir, assistant conductor for the Chamber Singers and Concert Choir, and as chorus master for numerous UCI opera productions.
As a graduate student at CSUF, Kibsaim served as the Graduate Assistant Conductor for Women's Choir (now Titan Voices), Concert Choir, Opera Theatre, and University Singers. Kibsaim was also the inaugural recipient of the John Alexander Scholarship for Graduate Choral Conducting, a full tuition scholarship for graduate studies.
Kibsaim plans to pursue his DMA in conducting in the future and continue to work and make music with many more ensembles.