In May 2019, Pacific Chorale had the honor of joining the Los Angeles Philharmonic, Los Angeles Master Chorale, Los Angeles Children's Chorus, National Children's Chorus, and eight outstanding soloists all under the baton of conductor Gustavo Dudamel to perform Gustav Mahler's mammoth Symphony No. 8 in E-flat Major—aptly nicknamed the "Symphony of a Thousand"—as the triumphant climax of the Philharmonic's centennial year.
Those performances were captured live by the premier recording engineers of Deutsche Grammophon, and the resulting recording was digitally released in stunning Dolby Atmos sound on June 7, 2021.
Pacific Chorale is proud to have been part of these amazing performances, and excited to be able to share them with the world through this magnificent recording!
Read the LA Phil's press release here.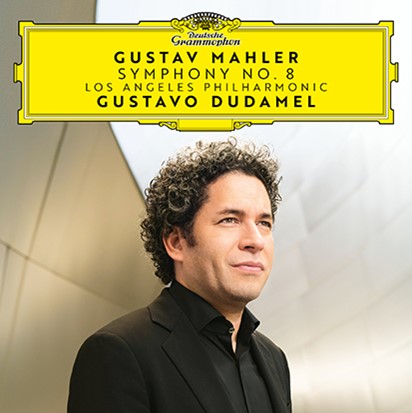 Gustav Mahler: Symphony No. 8
Gustavo Dudamel, conductor
Los Angeles Philharmonic
Los Angeles Master Chorale
Pacific Chorale
Los Angeles Children's Chorus
National Children's Chorus
Tamara Wilson, soprano
Leah Crocetto, soprano
Erin Morley, soprano
Mihoko Fujimura, mezzo-soprano
Tamara Mumford, mezzo-soprano
Simon O'Neill, tenor
Ryan McKinny, bass-baritone
Morris Robinson, bass
Recorded live in concert at Walt Disney Concert Hall in Los Angeles, May 30-31 and June 2, 2019.
Posted Under: News