On Sept. 19, 2022, Pacific Symphony announced that Music Director Carl St.Clair and Pacific Symphony's Board of Directors have come to agreement on a two-year extension of his contract for the 2022-23 and 2023-24 seasons, with an option for additional extensions. The new agreement reaffirms his commitment to Pacific Symphony, its musicians, and to the community of supporters and friends that he will continue to be the artistic leader for Pacific Symphony.
While making this important commitment, Maestro St.Clair asked the Board to begin shaping a succession plan and to commence a search for his successor in a fashion that will assure a continuity of leadership. Until the Symphony has secured a successor, St.Clair will continue as music director. There is no specific timetable, and this will afford the Board, musicians, and staff the freedom to assess potential candidates very carefully over time allowing for a seamless transition.
"I am so grateful to Carl for remaining committed to Pacific Symphony. As visionary and orchestra builder, Carl has possessed a singular commitment to Orange County. He has a deep love for the musicians with whom he has collaborated," says Pacific Symphony President and CEO John Forsyte. "It has been thrilling to listen to and watch the chemistry of this orchestra evolve and grow over the three decades of Carl's tenure. He has inspired the community, initiated national models of education and community engagement programming, designed fascinating festivals, commissioned important composers, and led our development to the top tier of American orchestras. Of course, this is a point of great emotion for all of us who love Carl's work. We know that Carl will have a significant role with Pacific Symphony for the foreseeable future."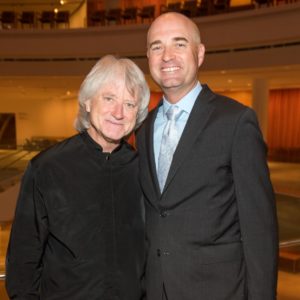 "I am pleased to salute Maestro Carl St.Clair on his years of dedication and support of classical music in Orange County. Carl has fostered a beautiful relationship with the singing musicians of Pacific Chorale and created a partnership between Pacific Chorale and Pacific Symphony that I believe is truly unique in American classical music. My colleagues, Artistic Director Emeritus John Alexander, and I are so grateful Carl dedicated his musical career to programming great masterworks for chorus and orchestra, complete operas, and numerous commissions written for our combined forces. Personally, I am grateful for Carl's generous mentoring. He has been a creative and inspiring force in my life for over twenty years. I cherish our friendship and the many profound truths I've learned from him. I will forever be grateful that Carl St.Clair came into my life, and that we had the opportunity to work together and grow together. My colleagues in Pacific Chorale certainly share this sentiment, as do the millions of people in our community his gracious spirit has touched, and we look forward to celebrating every moment we spend with him during the next two years. Congratulations, Carl!" — Artistic Director Robert Istad
Maestro St.Clair joined Pacific Symphony in 1990 and is only the second music director in the orchestra's 44-year history. "I am grateful to the community and our patrons for showing so much support for the orchestra and me all these years. I have been granted a unique gift to be part of the development of an institution from its early period," St.Clair shared. "The musicians of Pacific Symphony and I have shared an extraordinary 33-year journey, and I am honored that the Board has extended my contract for two seasons, and that I will remain music director through 2023-24, if not longer. I am pleased to reaffirm my commitment to Pacific Symphony and pledge my commitment to continue to be part of the Symphony Family for many years to come."
Read the Message from Music Director Carl St.Clair here.
Posted Under: News