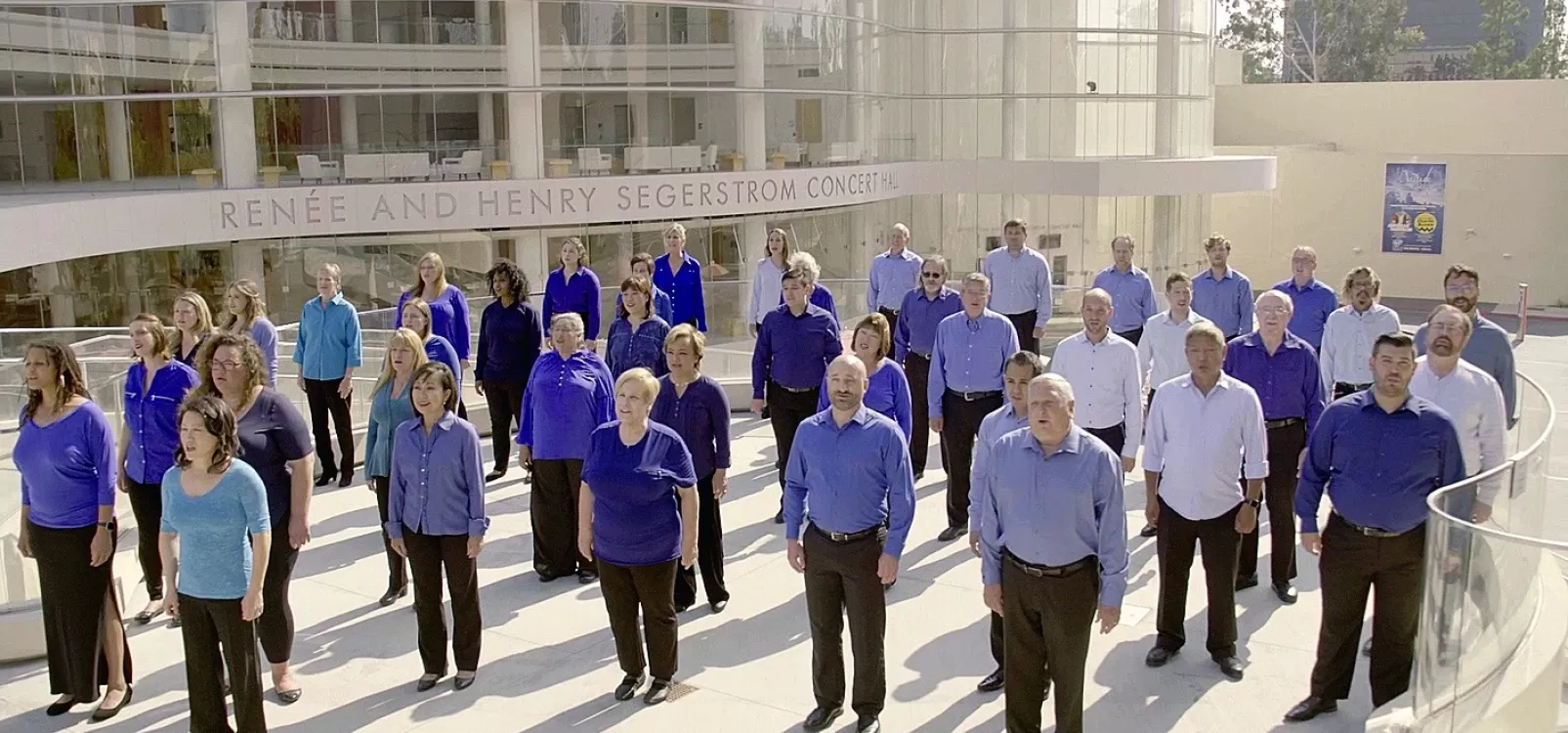 PBS Picks Up "The Wayfaring Project"
Press Contact: Libby Huebner, libbyhuebner562@gmail.com, 562.799.6055
Air Dates:
PBS SoCal  December 17, 8 pm
KCET   December 22, 8 pm
also streams on pbssocal.org. kcet.org and the PBS app
PBS SoCal and KCET to Air Pacific Chorale's Critically Acclaimed "The Wayfaring Project," an Original Concert Film, Conceived and Conducted by Artistic Director Robert Istad
COSTA MESA, CA (November 23, 2021) – Pacific Chorale hits the television airwaves in December, greatly extending the reach of its artistry, when PBS SoCal and KCET air the choir's critically acclaimed original concert film, "The Wayfaring Project," conceived and conducted by Artistic Director Robert Istad. The visual and musical odyssey features Pacific Chorale, members of Pacific Symphony and soloists performing J.S. Bach's motet, Jesu meine Freude, interwoven with contemporary works such as Moira Smiley's arrangement of the American folksong Wayfaring Stranger, Dolly Parton's Light of a Clear Blue Morning, Samuel Barber's Sure on This Shining Night, Tarik O'Regan's All Things Common, and Randall Thompson's Alleluia. The program will air on PBS SoCal (December 17, 8 pm) and KCET (December 22, 8 pm), and will also stream on pbssocal.org, kcet.org and on the PBS app.
Filmed between April and July 2021, "The Wayfaring Project" follows Pacific Chorale's progression through the COVID-19 pandemic: from complete social distancing, with each singer performing in isolation for 'Wayfaring Stranger,' through hybrid music videos with the audio recorded separately from the visuals, culminating in the choir's first return to live music-making after 17 months at its performing home in the Renée and Henry Segerstrom Concert Hall. 
"The music traces an emotional arc from dislocation and uncertainty to assurance and hope," says Istad. "It pays tribute to the emotional journeys we have all undergone during the past year and a half, and looks forward to a brighter future for us and for the world."
Andrew Brown, Pacific Chorale's President and CEO, adds, "We are delighted to partner with PBS SoCal and KCET to present this remarkable film to audiences across the Southland. It's particularly meaningful that the film will air in December, when families gather together for the holidays."
"The Wayfaring Project" features audio and video production by Arts Laureate and video production by award-winning cinematographer Jeff Dolen.
Pacific Chorale's 2021-22 Season is made possible by generous support from Platinum Season Sponsor Phillip N. and Mary A. Lyons, and Silver Season Sponsor Charles and Ling Zhang.
ABOUT THE ARTISTS
ROBERT ISTAD, who "fashions fluent and sumptuous readings" (Voice of OC) with his "phenomenal" artistry (Los Angeles Times), was appointed Pacific Chorale's Artistic Director in 2017. Under his leadership, the chorus continues to expand its reputation for excellence for delivering fresh, thought-provoking interpretations of beloved masterworks, rarely performed gems and newly commissioned pieces. His artistic impact can be heard on two recent recordings featuring Pacific Chorale: "Mahler's Eighth Symphony" with the Los Angeles Philharmonic Orchestra conducted by Gustavo Dudamel on Deutsche Grammophon (2021), for which he prepared the chorus, and "All Things Common: The Music of Tarik O'Regan," which he conducted, on Yarlung Records (2020). Istad has also prepared choruses for such renowned conductors as Esa-Pekka Salonen, John Williams, John Mauceri, Keith Lockhart, Nicholas McGegan, Vasilly Sinaisky, Sir Andrew Davis, Bramwell Tovey, Carl St.Clair, Eugene Kohn, Giancarlo Guerrero, Marin Alsop, George Fenton, and Robert Moody. He regularly conducts and collaborates with Pacific Symphony, Musica Angelica Baroque Orchestra, Sony Classical Records, Yarlung Records, Berkshire Choral International, and Long Beach Symphony Orchestra. An esteemed educator, Istad is Professor of Music and Director of Choral Studies at California State University, Fullerton, where he was recognized as CSUF's 2016 Outstanding Professor of the Year. He conducts the University Singers and manages a large graduate conducting program, in addition to teaching courses on conducting and performance practice. Istad, who is on the Executive Board of Directors of Chorus America and serves as Dean of Chorus America's Conducting Academy, is in demand as guest conductor, lecturer, and clinician.
PACIFIC CHORALE, an Orange County "treasure" with a "fresh viewpoint" that "can sing anything you put in front of it, with polish, poise and tonal splendor" (Orange County Register) has "risen to national prominence" (Los Angeles Times) since its inception in 1968. Hailed for delivering "thrilling entertainment" (Voice of OC), the resident choir at Segerstrom Center for the Arts is noted for its artistic innovation and commitment to expanding the choral repertoire. It has given world, U.S., and West Coast premieres of more than 35 works, including numerous commissions, by such lauded composers as John Adams, Jake Heggie, James Hopkins, David Lang, Morten Lauridsen, Ravel, Tarik O'Regan, Karen Thomas, Frank Ticheli, András Gábor Virágh, and Eric Whitacre. In addition to presenting its own concert series each season, Pacific Chorale enjoys a long-standing partnership with Pacific Symphony, with whom the choir made its highly anticipated Carnegie Hall debut in 2018. The chorus also regularly appears with the Los Angeles Philharmonic, and has performed with such leading orchestras as the Boston Symphony, National Symphony, Los Angeles Chamber Orchestra, Philharmonia Baroque Orchestra, San Diego Symphony, and Musica Angelica, among others. Pacific Chorale has garnered international acclaim as well, having toured extensively to more than 19 countries in Europe, South America, and Asia, and through collaborations with the London Symphony, Munich Symphony, L'Orchestre Lamoureux and L'Orchestre de St-Louis-en-l'Île of Paris, National Orchestra of Belgium, China National Symphony, Hong Kong Sinfonietta, Estonian National Symphony, and Orquesta Sinfonica Nacional of Argentina, among others. Deeply committed to making choral music accessible to people of all ages, the organization, which has a discography of 14 self-produced recordings and an extensive collection of exceptional free digital offerings, places a significant emphasis on choral music education, providing after-school vocal programs for elementary school students, a choral summer camp for high school students, and an annual community-wide singing event at Segerstrom Center for the Arts. www.pacificchorale.org
ABOUT PBS SOCAL AND KCET
PBS SoCal and KCET are both part of the donor-supported community institution, the Public Media Group of Southern California. PBS SoCal is the flagship PBS station for diverse people across California and delivers content and experiences that inspire, inform and educate. PBS SoCal offers the full slate of beloved PBS programs including MASTERPIECE, NOVA, PBS NewsHour, FRONTLINE, and a broad library of documentary films with works from Ken Burns; as well as educational content including PBS KIDS programs like DANIEL TIGER'S NEIGHBORHOOD and CURIOUS GEORGE. KCET showcases the best of PBS and is a leading source for arts, culture, and news in Southern California. Through innovative storytelling, KCET explores and expresses our dynamic local communities helping residents understand and connect with the region's diverse communities and ideas. For additional information about both KCET and PBS SoCal productions, web-exclusive content, programming schedules and community events, please visit kcet.org and pbssocal.org KCET Originals and PBS programming are available to stream on the FREE PBS App on iOS and Android devices, Roku, Amazon Fire TV, Apple TV, Android TV, Samsung Smart TV, and Chromecast. KCET is also available to watch live on YouTube TV.
# # #
DOWNLOAD PHOTOS HERE: https://tinyurl.com/wayfaringproject
EDITORS, PLEASE NOTE:
WHAT:
Pacific Chorale
"The Wayfaring Project"
an original concert film
Robert Istad, conductor
Pacific Chorale
Paul Manaster, Violin I
Jennise Hwang, Violin II
Meredith Crawford, Viola I
Josephine Moerschel, Viola II
Warren Hagerty, Cello
Jung-A Lee, Organ
FEATURED MUSIC SELECTIONS:
Jesu, meine Freude, BWV 227               J.S. BACH
Adinu                                                   Sufi Melody, arr. Shireen Abu-Khader and André de Quadros
Wayfaring Stranger                               Traditional American Tune, arr. Moira Smiley
Take My Hand, Precious Lord                THOMAS A. DORSEY
All Things Common                               TARIK O'REGAN
Sure on This Shining Night                    SAMUEL BARBER
Light of a Clear Blue Morning                 DOLLY PARTON, arr. Craig Hella Johnson
Alleluia                                                 RANDALL THOMPSON
AIR DATES:
PBS SoCal
December 17, 8 pm
KCET 
December 22, 8 pm
Also streams on pbssocal.org, kcet.org and on the PBS app
PRODUCED BY:
Robert Istad, Pacific Chorale Artistic Director
Andrew Brown, Pacific Chorale President & CEO
Alex Nelson, Director of Artistic Production
INFORMATION:
www.pacificchorale.org
714-662-2345
# # #