Light of a Clear Blue Morning Music Video (2021)
Light of a Clear Blue Morning
Music and Lyrics by Dolly Parton
Arrangement by Craig Hella Johnson
Performed by Pacific Chorale
Robert Istad, Artistic Director
Katie Martini, soprano soloist
Joseph Loi, flutist
Denean R. Dyson
Rebecca Hasquet
Eleen Hsu-Wentlandt
Vocal Trio
Produced by Arts Laureate
Produced by Jeff Dolen Productions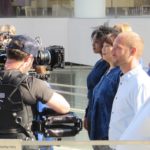 Take a look at the Behind the Scenes filming Light of a Clear Blue Morning!
---
The Wayfaring Project
Light of a Clear Blue Morning is the second installment of Pacific Chorale's Summer 2021 virtual production, The Wayfaring Project. Centering around Bach's motet Jesu, meine Freude, The Wayfaring Project takes us on a journey that acknowledges and honors the profound dislocation and uncertainty most of us have faced during the past year, while looking ahead to the future with hope and assurance that we are at last "going home." The complete concert will receive its world premiere screening on the Julianne and George Argyros Plaza at Segerstrom Center for the Arts August 21, 2021, and will thereafter be available online to audiences worldwide. Reserve your seats now!
---
Pacific Chorale is committed to providing the highest quality performances and recordings of choral masterworks of the past, creating masterworks of the future, and educating audiences of all ages.
If you enjoyed this program, please consider a donation to Pacific Chorale so that we can continue to share our beloved artform with the community.
Gustav Mahler: Symphony No. 8 (2021)
Gustav Mahler's mighty Eighth Symphony can  be heard in a revelatory interpretation from Gustavo Dudamel, the Los Angeles Philharmonic, Los Angeles Master Chorale, Pacific Chorale, Los Angeles Children's Chorus, National Children's Chorus, and a masterful assembly of solo voices, recorded live at Walt Disney Concert Hall in a landmark performance that brought the LA Phil's centennial season to a triumphant conclusion in 2019.
All Things Common (2020)
Robert Istad conducts Pacific Chorale and Salastina in choral music by Tarik O'Regan. This recording traces Tarik's distinctive development as a composer. We present never-recorded works from twenty years ago alongside new compositions written for this project. Tarik's ingenuity speaks definitively throughout, and I believe our album serves as a testament to his exceptional voice.