Tis the Season! Goes Online
Celebrate the holidays in high style with Orange County's favorite seasonal extravaganza, including members of Pacific Chorale, angelic children's voices, and The Man in Red himself!
Enjoy this free virtual holiday concert on December 3, 2020 at 5:00 p.m. PST. Sign up to get the latest updates from Pacific Chorale.
Guests & Performers
Pacific Chorale
Robert Istad, conductor
Katie Martini, Soprano
Denean Dyson, Alto
Nick Preston, Tenor
Matthew Kellaway, Bass
David Clemensen, Pianist
Christopher Luthi, Pianist
Matthew Smith, Drummer
Sean Emch, Bass
Southern California Children's Chorus
Lori Loftus, conductor
Special Virtual Performance by our PC Academy
Silent Auction
Our Not-So-Live Auction will be live online one week prior to the concert.
Gift an Auction Item
Pacific Chorale is actively seeking experiences, gift baskets, certificates and other intriguing items in order to raise funds through our exciting silent auction. All donations are 100% tax deductible.
To Donate
Please contact Briana Watson, Individual Giving Manager, at [email protected] or call (714) 662-2345.
Donation Request Form or Auction Sponsorship Packet
Sponsorship Opportunities
$250 VIP Ticket – Join us for a special evening as we bring the gala to you!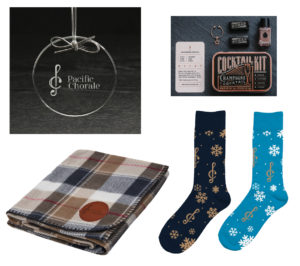 By purchasing a VIP ticket for your household, we'll send you a beautiful care package for you to enjoy during the concert. You'll also be listed as a sponsor for the evening during our pre-roll, credits and online!
VIP Gift Box included for all sponsor levels!  We are finalizing the selection of several tasty treats to be enjoyed during the broadcast, but here's a taste of our "Cozy Kit."

Purchase your VIP ticket here.
View and Download the Individual or Corporate sponsorship opportunities and benefits for this year's annual gala. Contact Briana Watson at 714) 662-2345 or [email protected] for more details.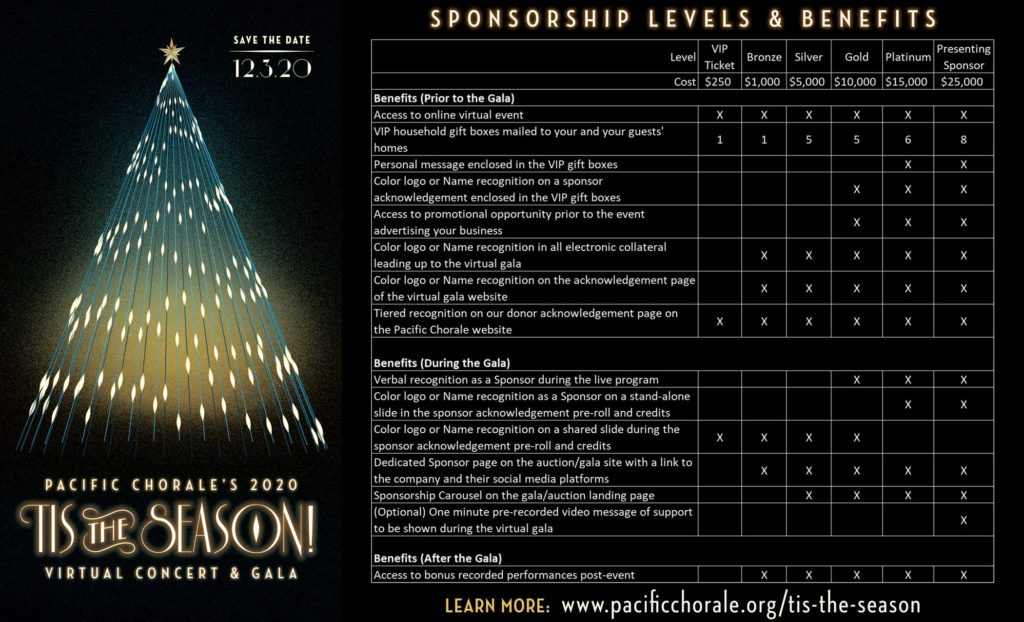 Deductibility
Pacific Chorale is a 503(c)(3) nonprofit. A portion of all contributions will be tax deductible. The exact tax-deductible amount will vary by sponsorship level.
---
Inspiring love of choral music and lifelong learning.
Despite the challenges we face during this global pandemic, Pacific Chorale continues to strive toward our mission – to inspire the community through artistry and innovation in choral performances and education programs.
As you think about the significant impact that music has made in your life, please consider a gift to Pacific Chorale to help sustain our operations and ensure a bright future. Together, we can make a difference.