Tis the Season! Goes Online
Celebrate the holidays in high style with Orange County's favorite seasonal extravaganza, including members of Pacific Chorale, angelic children's voices, and The Man in Red himself!
Enjoy this free virtual holiday concert on December 3, 2020 at 5:00 p.m. PST.
Sign up for your virtual ticket for Tis the Season! here:
Guests & Performers
Pacific Chorale
Robert Istad, conductor
Katie Martini, Soprano
Denean Dyson, Alto
Nicholas Preston, Tenor
Matthew Kellaway, Bass
David Clemensen, Pianist
Christopher Luthi, Pianist
Matthew Smith, Drummer
Sean Emch, Double Bass & Guitar
Southern California Children's Chorus
Lori Loftus, conductor
Special Virtual Performance by our Pacific Chorale Academy
Program
Happy Holiday (From "Holiday Inn") | Soloists
Winter Wonderland | Denean Dyson
It's Beginning to Look a Lot Like Christmas | Matthew Kellaway
What Child Is This? | Pacific Chorale
O Tannenbaum | Southern California Children's Chorus
O Holy Night | Nicholas Preston
In the Bleak Midwinter | Katie Martini & Nicholas Preston
This Little Light of Mine | Students of Pacific Chorale Academy & Choral Camp
Silent Night | Pacific Chorale
Have Yourself a Merry Little Christmas | Katie Martini
We Wish You a Merry (Virtual) Christmas | Pacific Chorale
Silent Auction
Our "Tis the Season!" gala auction will be live on November 23rd. Check out the array of items and experiences on offer, including one-of-a-kind getaways, lovingly prepared gift baskets, and shopping opportunities. Get some holiday shopping done while supporting Pacific Chorale's mission!
Auction highlights include:
Travel packages to Napa, California; Maui, Hawaii; and Manzanillo, Mexico
Dining and wine tasting adventures
Signed memorabilia
…and more!
The auction will remain open until 9 p.m. Pacific Time December 3rd. Be sure to join the virtual concert and broadcast at 5 p.m.—free to register and view at TisTheSeason.GiveSmart.com!
To Donate
All donations are 100% tax deductible. Please contact Briana Watson, Individual Giving Manager, at [email protected] or call (714) 662-2345.  Donation Request Form or Auction Sponsorship Packet
Sponsorship Opportunities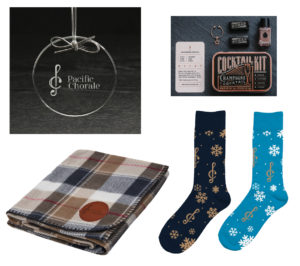 $250 VIP Ticket – Join us for a special evening as we bring the gala to you!
By purchasing a VIP ticket for your household, we'll send you a beautiful care package for you to enjoy during the concert. You'll also be listed as a sponsor for the evening during our pre-roll, credits and online!
VIP Gift Box included for all sponsor levels!  We are finalizing the selection of several tasty treats to be enjoyed during the broadcast, but here's a taste of our "Cozy Kit." *Orders placed by November 19th will be ensured delivery prior to the gala.

Deductibility
Pacific Chorale is a 503(c)(3) nonprofit. A portion of all contributions will be tax deductible. The exact tax-deductible amount will vary by sponsorship level.
Special Thanks
Pacific Chorale gratefully acknowledges its generous sponsors:
Presenting Sponsor
Phillip N. and Mary A. Lyons
Platinum Sponsors
Tom and Bonnie Pridonoff
Charles and Ling Zhang
Platinum Corporate Sponsor
Lenora Meister & Salt-Away Products, Inc.
Gold Sponsor
Hans & Valerie Imhof
Silver Sponsor
David Bunker, Jeff Liu & My Life Foundation
Bronze Sponsors
Anonymous (2)
Mr. and Mrs. David Erickson
Kathryn Gibson
Jan Landstrom
Chris & Susan Lindley
John & Elaine McClintic
Bruce Pasarow in Memoriam
George Reiss
Martha & Peter Wetzel
Vina Williams & Tom Slattery
Individual Sponsors
Mike Andrews
Anonymous
Black Structural Engineers, Inc.
Andrew Brown & Karen Hogle Brown
Michael & Sybil Carney
Mr. & Mrs. James Comia
Gerald & Veronica Devries
David & Bonnie Eastman
J.C. Edwards
Robert & Elaine Elliott
Jean Foster
Cheryl Fischer
Christopher & Mary Galloway
Rhona Weinberg Gewelber
Eileen Hall
Michael & Janet Hards
Anne & Tom Henley
Diana Dessery Hensley
Mark & Donna Hoover
Lynne Istad
Rob Istad & David Navarro
Drew & Katherine Jacobs
Drs. Andrei Novac & Bonita Jaros
Eileen Jeanette
Norm & Sandy Johnson
Ronald Johnson
Kelleher Family
Jeff & Cathy Kissel
Craig & Debbie Kistler
James & Lidia Klingler
Nels & Andrea Klyver
Julian Leal
Frank Martini
Lacye Martini & Coy Purkey
Richard Messenger
Alex Nelson
Pat & Craig Newton
Marcia O'Hern
Nicholas, Kathleen, & Zelda Preston
John Prothero
Quinn & Dworakowski LLP.
Ryan Ratcliff
Tracy Steele
Thompson Family
Ruthann Walker
Briana & Tom Watson
Ann & Steve Williams
---
Inspiring love of choral music and lifelong learning.
Despite the challenges we face during this global pandemic, Pacific Chorale continues to strive toward our mission – to inspire the community through artistry and innovation in choral performances and education programs.
As you think about the significant impact that music has made in your life, please consider a gift to Pacific Chorale to help sustain our operations and ensure a bright future. Together, we can make a difference.