Denean Dyson
mezzo-soprano
---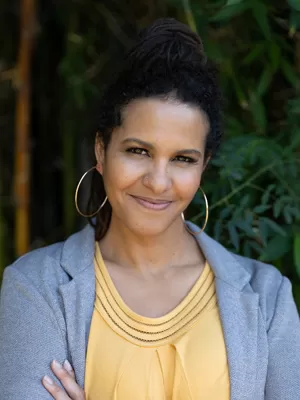 A free-spirited mezzo-soprano with a genuine passion for music, Denean Dyson is a true artist fervently driven to share the beauty and influence music holds. Classically trained yet accomplished in many genres, her additional vocal capabilities in R&B, soul, and jazz allow her to deliver a beautifully artistic sound imbued with skill and emotion in every performance. This Vegas-born chanteuse earned a B.A. in music ('11) from CSU Fullerton School of Music and immediately launched into a career as a professional artist, entertaining audiences in the US and abroad.
Denean's incredible vocal agility has earned her the privilege of sharing a stage with many talented artists like renowned mezzo-soprano Susan Graham, jazz and blues legend Barbara Morrison, and singer and actress Reba McEntire.
As a featured soloist, Denean has dominated the stage with notable compositions like Carole King's "A Natural Woman," "Satisfied" from Hamilton, "One Night Only" from Dreamgirls for Segerstrom's Cabaret Series, "I Don't Know" from Bernstein Mass with Pacific Chorale, "A Wonderful Guy" in South Pacific in Concert with Pacific Symphony, is showcased on Jake Heggie's premiere choral opera The Radio Hour (Delos), and has headlined CSU Fullerton's Concert Under the Stars.
Denean is honored to have sung for gifted conductors like Gustavo Dudamel, John Williams, Ludwig Wicki, John Alexander, Robert Istad, Carl St. Clair, Nicholas McGegan, and Keith Lockhart, in renowned venues such as Carnegie Hall, the Hollywood Bowl, Staples Center, Segerstrom Concert Hall, and more.
Based in Long Beach, Denean also leads her own group, Denean's Soul Foundation, sharing fresh renditions of R&B, jazz and soul tunes from Motown to today's pop hits at a variety of public and private venues and events.
Denean remains ever grateful that her life is full of music!