WELCOME TO 2020 – 2021: THE FERMATA SEASON!
Greetings from Pacific Chorale! Rob and I wanted to take an opportunity to update you on Pacific Chorale's plans for the 2020-2021 Season. We thank you for your patience as the staff and Board continue to work tirelessly behind the scenes to adapt to the challenges of running a nonprofit, especially a choral organization, during this crisis, and as we explore how to move more of our content to online platforms. As you are all experiencing in your own lives right now, we are operating in an ever-changing and uncertain world, which has made it challenging to develop and commit to firm plans for Pacific Chorale. That said, we think we have come up with an exciting plan through the winter to keep you engaged and connected with your Pacific Chorale family.
Like nearly all arts organizations across the country, we have put our in-person rehearsals and performances on hiatus for this season. We honestly do not yet know when we will all be back together in person to enjoy spectacular choral music performances. In the meantime, this fall we will bring the music you love right to you, on whichever device you most fancy, through a few virtual projects. Over the next few months, we will also be making some updates and enhancements to our website, to better serve as a digital home for our patrons. We hope you will enjoy these digital musical offerings and stay connected with us through our social media feeds and at pacificchorale.org.
If you requested that your ticket funds from this past spring's concerts be put on account toward future performances, rest assured those credits will not expire! We will hold them in reserve for you until we are able to resume live concerts.
FALL 2020 VIRTUAL CHOIR PROJECT – Bobby McFerrin's Psalm 23
We are thrilled to share that Rob has chosen to kick things off this Fall with a virtual choir performance of Bobby McFerrin's exquisite and meditative setting of Psalm 23. For those of you unfamiliar with Bobby's work (you may know him as the singer/songwriter of Don't Worry, Be Happy), he is an incredible composer, vocal artist, and conductor who has frequently collaborated with artists such as Yo-Yo Ma, and is just this week being honored as a 2020 NEA Jazz Master. Some of you may even remember when our singers performed this work with Bobby as a guest artist in a special May 2001 concert. In addition, Bobby's mother Sara—to whom Psalm 23 is dedicated—was a longtime Board member and supporter of Pacific Chorale until her passing last December.   We felt this magical setting of this beautiful prayer and the strong connections between the artist, the work, and our organization, made for the perfect musical offering and message this fall.
TIS THE SEASON! – VIRTUAL CONCERT & GALA
This year, more than ever, we know we are all going to "Need a Little Christmas!" Since we cannot share our annual performances of the Carols by Candlelight and Tis the Season! concerts with you in person, we thought we would bring the show to you. Your PC team has donned our elf hats early this year to dream up a streamed, hour-long holiday show and a virtual gala (including an online auction) to bring a little holiday cheer into the hearts of our Pacific Chorale family and hopefully a little financial support in Pacific Chorale's holiday stocking!
Tentatively slated for early December, this virtual program will feature swinging cabaret-style solo performances of your favorite holiday hits sung by our talented Pacific Chorale singers. There will also be an a cappella virtual performance of John Rutter's What Child is This from our chamber ensemble and at least two full Pacific Chorale virtual performances, including our favorite setting of Silent Night (you will remember from last year's Tis the Season!). For the finale, we will premiere a brand-new, commission of We Wish You a Merry Christmas ("The Silly Shelter-In-Place Version"), prepared by Gary Fry, the principal pops arranger for ensembles such as the Chicago Symphony Orchestra and the Dallas Symphony. Next year (all fingers and toes crossed), we will premiere the "official" commissioned Pacific Chorale signature version of We Wish You a Merry Christmas, to be arranged by Gary, that will become our perennial closer of our Tis the Season! concerts moving forward.
During this year's show, you will also be treated to a virtual performance by our young friends from the Southern California Children's Chorus, and a special virtual presentation from the students of our very own Pacific Chorale Academy.
An official "Save the Date" notice for Tis The Season: Virtual Concert & Gala will be coming down your chimney in just a few short weeks, so stay tuned for more details about how you can watch the performance and participate in the gala.
SPRING 2021 VIRTUAL PROJECTS
As you can imagine, planning for the spring is still very much a work in progress. We anticipate that most of our activities will remain online through the spring and Rob is working on two ideas to expand our virtual programming into the spring. As our plans begin to unfold, we will eagerly share with you what we have in store for the spring.
PC EDUCATION PROGRAMS MOVE ONLINE
We are excited to announce the launch of Pacific Chorale Academy @Home, a virtual version of our award-winning after-school program. Students will meet over Zoom with our teaching artists for fun, interactive musical activities focusing on creativity and wellness. One unintended advantage of moving this program online is that we are now able to offer the service to even more students than with in-person instruction. This program is open to all students in grades 2-6 in Orange County. Registration opens soon at www.pacificchorale.org/pacific-chorale-academy, and classes start online on September 22. In the meantime, you can visit our virtual classroom.
COMMITMENT TO DIVERSITY
From the very beginning of his tenure as Artistic Director, Rob has made it a priority of this organization to focus more attention on celebrating the work of under-represented voices in choral music. The Unsung Heroes initiative was launched in March 2019 with a concert of music all written by women composers. We can do more. As we know, there are more voices to amplify in our ensemble, administration, Board, audiences, and the community at large. Rob and I pledge to you and our community that we will be more intentional in our listening, programming, strategic planning, and actions. We will be more purposeful in identifying barriers that keep others from embracing Pacific Chorale, and the opportunities we can create to open our own hearts and minds. We will do more.
PLANNING FOR THE FUTURE
Out of crisis is born opportunity. Pacific Chorale will not be the same organization on the other side of this pandemic as it was heading into it. As we begin to move out of crisis management and into a space of long-range planning, we are confident in the truth that there will certainly be a Pacific Chorale on the other side. We now have an opportunity to pause, reflect, and imagine an even better organization. We are making changes now that will invite more people to make music with us and that will allow us to share more music, in more ways, with more people. We are making changes now that will make us nimbler and more prepared for the inevitable uncertainties and even unexpected opportunities of the future. We also look forward to hearing from you about how you imagine Pacific Chorale's transformation.
On behalf of all Pacific Chorale's artists and staff, we continue to be ever grateful for the continued and generous support offered from so many of you. We hope that you stay safe, comforted and supported during these challenging times and we hope that you stay in touch with us through social media, email – or just pick up the phone, as my mother would say! We miss you all so very much. And we miss sharing our music with you, in person, so very much.
With the very warmest regards,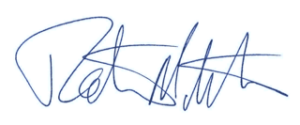 Robert Istad                                Andrew Brown
Artistic Director                         President & CEO
Posted Under: News