Concerts
Salzburg Cathedral
Salzburg, Austria
Saturday, 15 July 2023 at 12 p.m.

St Joseph Kirche
Munich, Germany
Sunday, 16 July 2023 at 5:00 p.m.

Sheldonian Theatre
Oxford, United Kingdom
Wednesday, 19 July 2023 at 7:30 p.m.

Bath Abbey
Bath, United Kingdom
Friday, 21 July 2023 at 7:30 p.m.

Salisbury Cathedral
Salisbury, United Kingdom
Saturday, 22 July 2023 at 7:30 p.m.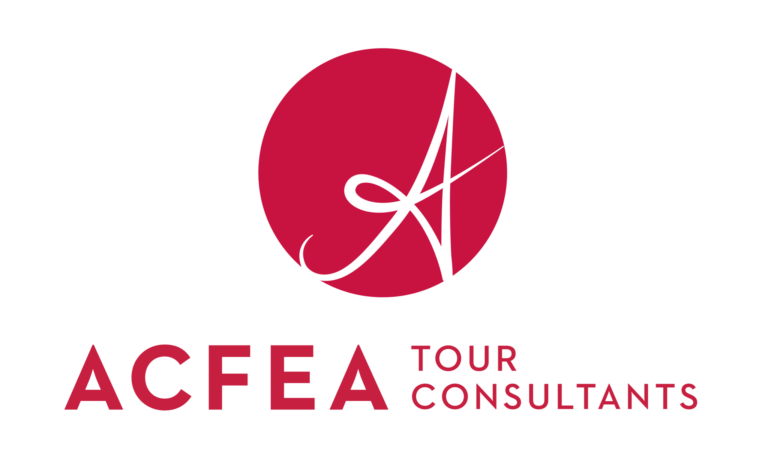 Pacific Chorale thanks Dennis and Marcía O'Hern for their generous sponsorship of the tour cities of Salzburg and Oxford
Many thanks to our tour sponsors:

Phillip N. & Mary A. Lyons
Jan Landstrom
Pat & Craig Newton
John & Marcia Cashion
Lenora Meister
Mary Ester Blakley
Wanlyn Bejach
Tom & Anne Henley
Dr. Andrei Novac & Dr. Bonita Jaros
George Reiss
Peter & Martha Wetzel
James & Karen McBride
Diana Hensley
Michael & Susan Jacobs
Brian D. Bates, CPA
Craig Davis
Craig & Deborah Kistler
Randi W. Larsen
Michael Lawler
Ryan McSweeney
Forrest Suchey
Amanda & Andrew Whiting
Raymond & Lois Helm Beeman
Barbara Kingsbury


Featured Artists
Robert Istad, Artistic Director & Conductor
Pacific Chorale

Bath Philharmonia

Aundi Marie Moore, soprano
I-Chin Betty Feinblatt, mezzo-soprano
Nicholas Preston, tenor
Michael Sumuel, bass-baritone
Concert Program
Abraham Lincoln Walks at Midnight Florence Price (1888-1953)

United Kingdom Premiere

Ms. Moore • Mr. Sumuel

Missa in angustiis (Mass for Troubled Times) in D minor, "Nelson Mass," Hob XXII:11
Joseph Haydn (1732-1809)

1. Kyrie
2. Gloria
3. Credo
4. Sanctus und Benedictus
5. Agnus Dei

Ms. Moore • Ms. Feinblatt • Mr. Preston • Mr. Sumuel
Texts & Translations
Abraham Lincoln Walks at Midnight
(In Springfield, Illinois)
Text by Vachel Lindsay (1879–1931), from The Congo and Other Poems (1914)
It is portentous, and a thing of state
That here, at midnight, in our little town
A mourning figure walks, and will not rest,
Near the old court-house pacing up and down.
Or by his homestead, or in shadowed yards
He lingers where his children used to play,
Or through the market, on the well-worn stones
He stalks until the dawn-stars burn away.
A bronzed, lank man! His suit of ancient black,
A famous high top-hat and plain worn shawl
Make him the quaint great figure that men love,
The prairie-lawyer, master of us all.
He cannot sleep upon his hillside now.
He is among us:—as in times before!
And we who toss and lie awake for long,
Breathe deep, and start, to see him pass the door.
His head is bowed. He thinks on men and kings.
Yea, when the sick world cries, how can he sleep?
Too many peasants fight, they know not why,
Too many homesteads in black terror weep.
The sins of all the war-lords burn his heart.
He sees the dreadnaughts scouring every main
He carries on his shawl-wrapped shoulders now
The bitterness, the folly, and the pain.
He cannot rest until a spirit-dawn
Shall come;—the shining hope of Europe free:
The league of sober folk, the Workers' Earth
Bringing long peace to Cornland, Alp and Sea.
It breaks his heart that kings must murder still,
That all his hours of travail here for men
Seem yet in vain. And who will bring white peace
That he may sleep upon his hill again?
* From the French paix blanche: a negotiated or compromise peace agreement without victory for either side, a diplomatic phrase that was in frequent use during World War I.
Biographies
Robert Istad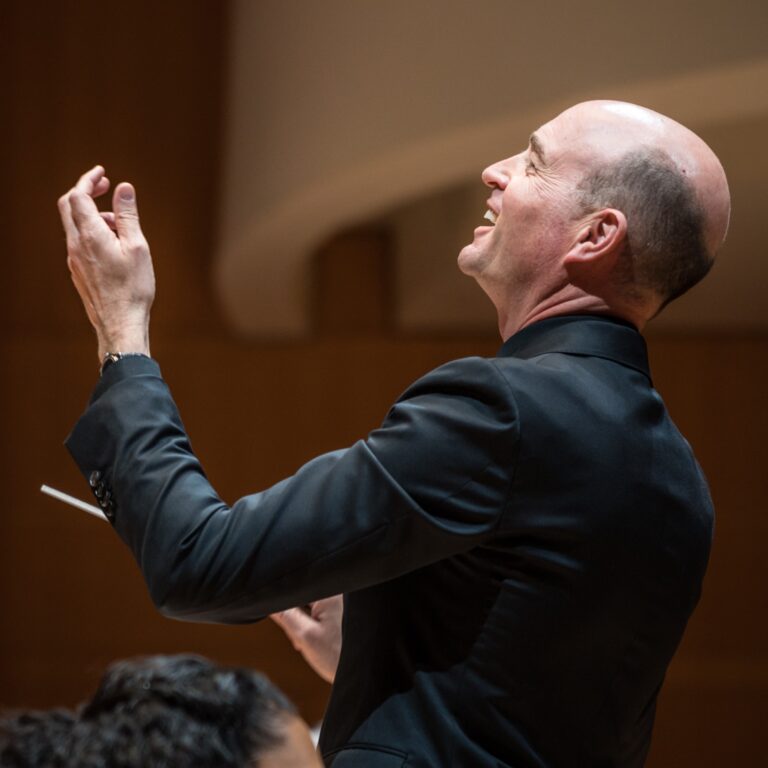 ROBERT ISTAD, a Grammy Award-winning conductor who "fashions fluent and sumptuous readings" (Voice of OC) with his "phenomenal" artistry (Los Angeles Times), was appointed Pacific Chorale's Artistic Director in 2017. Under his leadership, the chorus continues to expand its reputation for excellence for delivering fresh, thought-provoking interpretations of beloved masterworks, rarely performed gems and newly commissioned pieces. His artistic impact can be heard on two recent recordings featuring Pacific Chorale, including the 2020 Grammy Award-winning "Mahler's Eighth Symphony" with the Los Angeles Philharmonic Orchestra conducted by Gustavo Dudamel on Deutsche Grammophon (2021), for which he prepared the chorus. It won Best Choral Performance and also garnered a Grammy nomination for Best Engineered Album, Classical. Additionally, Istad conducted the Pacific Chorale's recording "All Things Common: The Music of Tarik O'Regan" released on Yarlung Records (2020).

​​​​​​​Istad has prepared choruses for such renowned conductors as Esa-Pekka Salonen, John Williams, John Mauceri, Keith Lockhart, Nicholas McGegan, Vasilly Sinaisky, Sir Andrew Davis, Bramwell Tovey, Carl St.Clair, Eugene Kohn, Giancarlo Guerrero, Marin Alsop, George Fenton, and Robert Moody. He regularly conducts and collaborates with Pacific Symphony, Musica Angelica Baroque Orchestra, Sony Classical Records, Yarlung Records, Berkshire Choral International, and Long Beach Symphony Orchestra. An esteemed educator, Istad is Professor of Music and Director of Choral Studies at California State University, Fullerton, where he was recognized as CSUF's 2016 Outstanding Professor of the Year. He conducts the University Singers and manages a large graduate conducting program, in addition to teaching courses on conducting and performance practice. Istad, who is on the Executive Board of Directors of Chorus America and serves as Dean of Chorus America's Conducting Academy, is in demand as guest conductor, lecturer, and clinician.

Pacific Chorale

The Grammy Award-winning PACIFIC CHORALE, a California "treasure" that "can sing anything you put in front of it, with polish, poise and tonal splendor" (Orange County Register) has "risen to national prominence" (Los Angeles Times) since its inception in 1968. Hailed for delivering "thrilling entertainment" (Voice of OC), Pacific Chorale is noted for its artistic innovation and commitment to expanding the choral repertoire. It has given the world, U.S., and West Coast premieres of more than 35 works, including numerous commissions, by such lauded composers as John Adams, Jake Heggie, James Hopkins, David Lang, Morten Lauridsen, Tarik O'Regan, Karen Thomas, Frank Ticheli, András Gábor Virágh, and Eric Whitacre.
Among other artistic highlights, Pacific Chorale's "The Wayfaring Project," an original concert film conceived and conducted by Istad and produced during the pandemic, will be streamed through December 1, 2024 on pbssocal.org, kcet.org and the PBS app, reaching audiences around the globe. In addition to presenting its own concert series each season, Pacific Chorale enjoys a long-standing partnership with Pacific Symphony. The chorus also regularly appears with the Los Angeles Philharmonic, with which it won the 2022 Grammy Award for Best Choral Performance for its contribution to the live recording of "Mahler: Symphony No. 8, 'Symphony of A Thousand'" conducted by Gustavo Dudamel, featuring Los Angeles Philharmonic, Los Angeles Children's Chorus, Los Angeles Master Chorale, National Children's Chorus and Pacific Chorale. The choir has performed with such leading orchestras as the Boston Symphony, National Symphony, Los Angeles Chamber Orchestra, Philharmonia Baroque Orchestra, San Diego Symphony, and Musica Angelica, among others. Pacific Chorale has garnered international acclaim as well, having toured extensively to Europe, South America, and Asia, and through collaborations with the London Symphony, Munich Symphony, L'Orchestre Lamoureux and L'Orchestre de St-Louis-en-l'Île of Paris, National Orchestra of Belgium, China National Symphony, Hong Kong Sinfonietta, Estonian National Symphony, and Orquesta Sinfonica Nacional of Argentina, among others. Deeply committed to making choral music accessible to people of all ages, the organization, which has a discography of 14 self-produced recordings and an extensive collection of exceptional free digital offerings, places a significant emphasis on choral music education, providing a range of education and community vocal programs. www.pacificchorale.org
Pacific Chorale

Robert Istad, Phillip N. and Mary A. Lyons Artistic Director Chair

John Alexander, Artistic Director Emeritus

Kibsaim Escarcega, Assistant Conductor

SOPRANO
Rebecca Hasquet, Section Leader
Ammy Beltran
Alexandria Burdick
Andria Nuñez Cabrera
Chelsea Chaves
Katy Compton
Barbara Kingsbury, Rita Major Memorial Chair
Corinne Larsen-Linza
Susan M. Lindley
Katie Martini
Maria Cristina Navarro
Jessica Pettygrove
Laura Pluth
Elizabeth Sanders
Sarah Thompson
Ruthanne Walker Rice
Victoria Wu

ALTO
Jane Hyunjung Shim, Section Leader
Shinaie Ahn
Emily Border
Kathryn Cobb-Woll
Denean R. Dyson
Harriet Edwards
Jacline Evered
I-Chin Betty Feinblatt
Kathryn D. Gibson
Kathleen Thomsen Gremillion
Sandy Grim
Anne Henley
Eleen Hsu-Wentlandt
Bonita Jaros
Michele M. Mulidor
Carla Neeld
Pat Newton
Kathleen Preston
Bonnie Pridonoff
Suzanne Rahn
Stephanie Shepson

TENOR
Nicholas Preston, Section Leader, Roger W. Johnson Memorial Chair
Daniel Alvarez
Daniel Coy Babcock, Ron Gray Memorial Chair
Christopher Brush
Saunder Choi
Craig Davis
David Evered
Alan Garcia
Vincent Hans
Steven M. Hoffman
Craig S. Kistler
Christopher Lindley
Zachary Lindquist
Gerald McMillan
Jesse Newby
Carl Porter, Singers Memorial Chair
Sammy Salvador
Joshua Tan Tessler
W. Faulkner White

BASS
Ryan Thomas Antal, Section Leader, Ron Gray Memorial Chair
John Bergquist
Michael Fagerstedt
Louis Ferland
Larry Gates
Randall Gremillion
Tom Henley
Jonathan Krauss
Jackson McDonald
Martin Minnich
Emmanuel Miranda
Seth Peelle
Carl Pike
Raphael Poon
Ryan Ratcliff
George Reiss
Antone Rodich

Administration
Andrew Brown, President & CEO
Molly Buzick Pontin, DMA, Vice President, Director of Education & Community Programs
Abby Manaye, Controller
Ryan McSweeney, Director of Patron Services
Alex Nelson, Director of Artistic Production
Natalie Hunter, Director of Marketing
Thelma Valenzuela, Director of Development
Michaela Teissere, Administrative Assistant

​​​​​​​
Aundi Marie Moore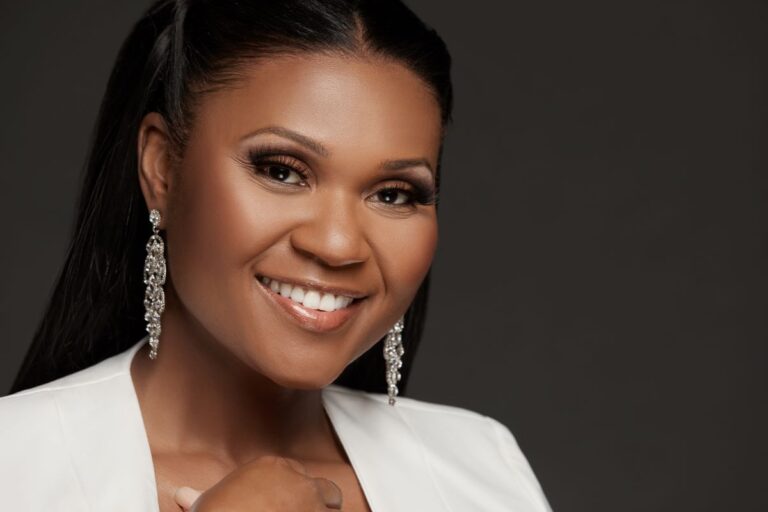 American soprano Aundi Marie Moore was recently announced as the 2023 Honoree of Sphinx Organization's Award for Excellence, an acknowledgement of her artistic achievements, work ethic, and spirit of determination. Current season highlights include Mother (Blue) at Toledo Opera and at Dutch National Opera in Amsterdam, The Netherlands, and Mother Abbess (The Sound of Music) at Virginia Festival.

​​​​​​​Previous career highlights on the opera stage include her highly lauded appearance as Strawberry Woman in the Metropolitan Opera's production of Porgy and Bess, Donna Elvira (Don Giovanni) at L'Opéra de Monte Carlo for her international operatic debut, Nedda (I Pagliacci) at Sarasota Opera, Mimi (La bohème) in Italy at the Amalfi Coast Festival, Serena (Porgy and Bess) at Atlanta Opera and at Virginia Opera, Young African American Soprano in Ricky Ian Gordon's world premiere of Rappahannock County at Virginia Opera, Soprano 2 in the U.S. premiere of Michael Nyman's Facing Goya at Spoleto Festival, and Odessa Clay in the world premiere of D. J. Sparr's Approaching Ali commissioned by Washington National Opera.

A member of the Domingo-Cafritz Washington National Opera Young Artist Program, Ms. Moore appeared at WNO as Nella (Gianni Schicchi), Fiordiligi (Così fan tutte), Mother (Hansel und Gretel), Wanda (c, Sophie's Choice), Fifth Maid (Elektra) under the baton of Heinz Fricke, and Donna Elvira in Don Giovanni under the baton of Placido Domingo. Ms. Moore completed her Master of Music degree at the University of Michigan and her Bachelor of Music at George Mason University. She participated in the Salzburg Music Festival Young Artist Program in 2008, where she covered the roles of Donna Anna (Don Giovanni) and the title role in Rusalka, and appeared as a featured soloist in their Gala concert conducted by Ivor Bolton. Noted for her versatility, Ms. Moore is no stranger to musical theatre, where she has appeared as Lady Thiang (The King and I) at Lyric Opera of Virginia, Nettie Fowler (Carousel) at Ashlawn Music Festival, and Maggie Porter in Tazewell Thompson's Jubilee at Arena Stage. Concert engagements are highlighted by her performance with the New World Symphony for Samuel Barber's Knoxville: Summer of 1915 under the baton of Steven Jarvi as well as the National Symphony Orchestra as their featured guest soloist for their Christmas Pops concert with Marvin Hamlisch conducting. She has often been a featured soloist with Virginia Symphony under the baton of JoAnn Falletta.

Ms. Moore has been the recipient of numerous prizes and awards from the National Opera Association, the Bel Canto Vocal Competition, the West Palm Beach Opera Competition, the Rocca della Macie International Voice Competition, the Florida Grand Voice Competition, and the Leontyne Price Vocal Competition. She was celebrated for being the 2015 winner of The American Prize in Voice, the 2016 Bronze Medalist at the American Traditions Competition in Savannah, Georgia, First Place winner at both Florida Grand Opera Young Patronesses Voice Competition and at Vocal Arts Discovery Series of Washington DC, and she was a finalist at Operalia.
Betty I-Chin Feinblatt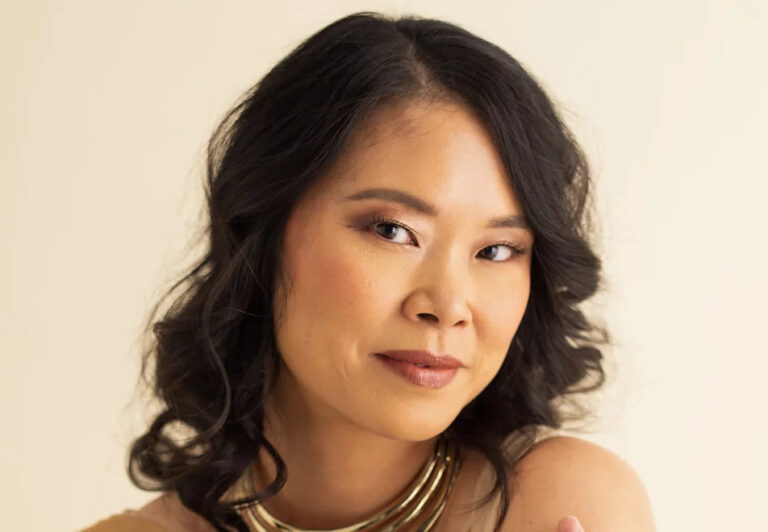 Born in Taiwan and now living in Los Angeles, I-Chin Betty Feinblatt is a classically trained mezzo soprano soloist and choral singer. Having performed in numerous concerts professionally since 2003, she has become known for her warm, velvety voice.   Her concert repertoire includes Bach's Mass in B minor, Beethoven's Ninth Symphony, and Mendelssohn's Elijah. Her performance in the latter earned praise from Timothy Mangan of The Orange County Register as "delicate and aristocratic singing in her solos." With the Camerata Singers of Long Beach and The National Children's Choir at The Broad Stage in Santa Monica, she has sung as a soloist in Mozart's Requiem and Handel's Messiah.

​​​​​​​Her most recent solo work includes Beethoven's Ninth Symphony with the Pacific Symphony (January 2023), the role of Shue-Ying in On Gold Mountain (Los Angeles Opera, May 2022) and the role of Suzuki in Madame Butterfly (Lyric Opera of Orange County, November 2021). Notably, she performed the role of Devotee in Philip Glass' The Passion of Ramakrishna (2018) as part of Glass' 80th birthday celebration at Carnegie Hall. You can see her this spring at The Ebell Center of Los Angeles production of The Everywhere of Her, book and lyrics by Velina Hasu Houston and music by Carla Lucero.Ms. Feinblatt will play the role of Katherine Sui Fun Cheung, the first Chinese Aviatrix in U.S. from the early 30's.


Nicholas Preston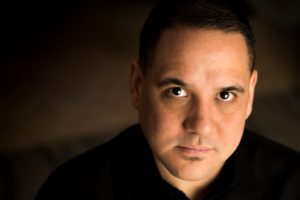 Praised by the Orange County Register as being "resonant and warm" and by the classical music site Bachtrack as "a ringing stentorian tenor", Hawai'i native Nicholas Preston is in demand as a soloist in Southern California and beyond, having performed throughout California, and touring as a soloist in France, Italy, and Spain. He has been a member of the Grammy Award-winning Pacific Chorale since 2002, and has frequently appeared as a soloist with the ensemble. Mr. Preston has also performed as a soloist with the Hollywood Bowl Orchestra, Pacific Symphony, and The Boston Pops Esplanade Orchestra. He has worked under the batons of John Alexander, Carl St.Clair, Keith Lockhart, John Williams, Nicholas McGegan, Kent Nagano, John Mauceri, Esa-Pekka Salonen, Grant Gershon and Gustavo Dudamel. Nicholas' solo appearances include Mendelssohn's Elijah, Horatio Parker's Hora Novissima, Beethoven's Missa Solemnis and Symphony No. 9, Bach's B Minor Mass and St. Matthew Passion, Mozart's Coronation Mass and Requiem, Handel's Messiah and Judas Maccabeus, and Benjamin Britten's War Requiem.
More recent performances include the role of "Messenger" in Pacific Symphony's production of Aida, tenor soloist in the Vespers of 1610 by Claudio Monteverdi with Pacific Chorale, and tenor soloist in Mozart's Requiem with Long Beach Symphony. Mr. Preston was featured in the world premiere of Philip Glass' The Passion of Ramakrishna, which was commissioned for the grand opening of the Renée and Henry Segerstrom Concert Hall and premiered by the Pacific Chorale and Pacific Symphony under the direction of Carl St.Clair in 2006. In April 2018, he reprised the role as his solo debut in Carnegie Hall. Mr. Preston is also involved with Pacific Symphony's award-winning Education programs, being a presenter with the Class Act program as well as a featured soloist in the Youth Concerts. Upcoming engagements include solo work with Orchestra Santa Monica, tenor soloist in the season finale for Pacific Chorale, and soloist for the 2023 Pacific Chorale European Tour. Mr. Preston received his B.A. in Music from Loyola Marymount University, and currently resides in Orange County with his wife Dr. Kathleen Preston and their daughter Zelda. www.nicholaspreston.com​​​​​​​
Michael Sumuel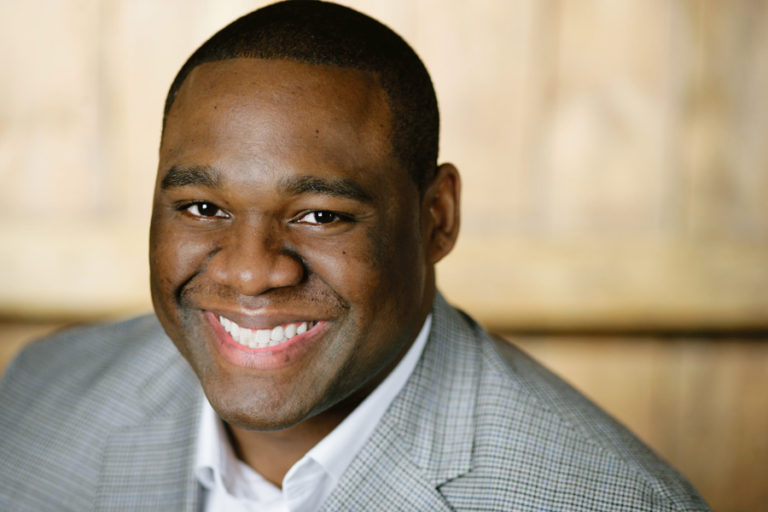 American bass-baritone Michael Sumuel, lauded as having "vocals that are smooth and ingratiating" (Daily Camera), returned to the Metropolitan Opera this season, singing Belcore in L'Elisir D'amore. Other debuts include the Father in Blue with English National Opera, Elviro in Xerxes with Detroit Opera, and Figaro in Le nozze di Figaro with Pittsburgh Opera. In concert, Mr. Sumuel performed Mozart's Requiem with the Cincinnati Symphony and James Conlon, Bach cantatas BWV 61 and 140 with the Handel and Haydn Society in Boston, opened Washington Concert Opera's season in a gala performance with soprano Tammy Wilson, and returned to Mercury Houston for Handel's Messiah.
Highlights of past opera seasons have included the Lyric Opera of Chicago as Masetto in a new production of Don Giovanni, conducted by Sir Andrew Davis, the San Francisco Opera to perform the title role in a new production of Le nozze di Figaro, Tom in the world premiere of Christopher Theofanidis' Heart of a Soldier, Escamillo in Calixto Bieito's production, Masetto, conducted by Marc Minkowski, and Elviro in Handel's Xerxes. At Houston Grand Opera, he has performed Belcore in L'elisir d'amore, Papageno in The Magic Flute, Frank in Die Fledermaus, Masetto, Sharpless, Marcello and Schaunard in La bohème. With Glyndebourne Festival Opera, he performed Sharpless, Junius in The Rape of Lucretia, Schaunard and Theseus. At Norwegian National Opera and Ballet, he performed Alidoro and Escamillo, and Figaro in Mozart's Le nozze di Figaro with Dayton Opera, later reprising the role for his company debut with Central City Opera. Finally, he performed Leporello in Don Giovanni with Seattle Opera.

An in-demand concert artist, his previous work has included Messiah with San Francisco Symphony, Baltimore Symphony Orchestra, Houston Symphony, the United States Naval Academy, New Jersey Symphony, Phoenix Symphony and University Musical Society in Ann Arbor. He has performed Mozart's Mass in C Minor with Cleveland Orchestra, the Orchestra of St. Lukes, and the Concertgebouw in Amsterdam, Beethoven's Symphony No. 9 with the Los Angeles Philharmonic, Seattle Symphony, American Classical Orchestra in David Geffen Hall at Lincoln Center, and the Oklahoma City Philharmonic. Other repertoire includes Beethoven's Missa Solemnis (Pittsburgh Symphony and Grant Park Music Festival), Mozart's Requiem (North Carolina Symphony), Haydn's Theresienmesse (Grant Park Music Festival), Puccini's Messa di Gloria (San Diego Symphony), the bass solos in Bach's St. John Passion (Music of the Baroque), the bass solos in Bach's St. Matthew Passion as well as the Magnificat (Mercury Houston).
Mr. Sumuel's competition accolades include being awarded a Richard Tucker Career Grant, Metropolitan Opera National Council audition Grand Finalist and a winner of the Dallas Opera Guild Vocal Competition. A Texas native, he is an alumnus of the Houston Grand Opera Studio, Merola Opera Program at San Francisco Opera and the Filene Young Artist program at Wolf Trap Opera. He currently resides in San Francisco with his wife and baby son.

Bath Philharmonia

Bath Philharmonia is a professional orchestra, based in Bath and touring South-West England. We reach over 12,000 people each year through a combination of concerts and projects in communities, with a specialism in working with Young Carers to help them build personal confidence and supportive relationships through making and performing their own music.

Founded in 2000, we bring international quality music to our local audiences with great performers such as Nicola Benedetti, Sheku Kanneh Mason, Jess Gillam, and Melvyn Tan, reflecting our core values of excellence, togetherness, inclusivity, sustainability, and enjoyment. The music we play ranges from Mozart to world premieres, and our home base is the Bath Forum.

​​​​​​​In addition to our busy concert schedule, we work with children and young people in schools, and the wider community, including the unique programme of work for Young Carers. The impact of this decade-long project – which was founded and is still led by our Music Director, Jason Thornton – was shortlisted for a prestigious Royal Philharmonic Society Award in 2019, the BAFTAs of the classical music world. Bath Philharmonia was delighted to win the 'Creative Arts Organisation' category in the Creative Bath Awards 2002.

Violin I
Sophie Langdon (Leader)
Gill Austin
Matt Everett
Peter Fisher
Claire Parkin
Rosie Wainwright

Violin II
Lisa Betteridge
Declan Daly
Katy Rowe
Kerry Vaughan
David Williams

Viola
Mike Briggs
Rachel Calaminus
Suzanne Evans
Virginia Slater

Cello
Trevor Burley
Jonathan Few
Miriam Lowbury
Toby Turton

Bass
Antonia Bakewell
Dave Brown
Martin Henderson

Flute
Ian Mullin
Nicola Summerscales

Oboe
Victoria Brawn
Jennie-Lee Keetley

Clarinet
Anna Hashimoto
Sacha Rattle

Bassoon
Rosie Cow
Liz Trigg

Horn
Matthew Cooke
Richard Wainwright

Trumpet
Gavin Wells

Trombone
Matt Harrison

Percussion
Jeremy Little

Social Media